Model USB-IIRO-16 is an ideal portable solution for adding easy-to-install isolated input and relay output digital I/O capabilities to any PC or embedded system with a USB port. Featuring 16 Form C (SPDT) electromechanical relays and 16 optically isolated digital inputs, the unit is the smallest of its kind for digital monitoring and control using USB.
The isolated, non-polarized inputs may be driven by either DC sources of 3-31 V (or higher by special order) or AC sources at frequencies of 40 Hz to 10kHz. Optically isolating the digital inputs from each other, and from the computer, assures smooth, error-free data transmission in noisy, real-world environments. The input channels are available via a 34-pin IDC type vertical header. The relay outputs are de-energized at power-up to prevent an unintended control output signal. Data to the relays is latched. The relay contacts are available via a 50-pin IDC type vertical header.
The rugged industrial unit contains an internal, removable screw termination board (USB-STB-84) with onboard removable screw terminals to simplify wiring connections. The USB-STB-84 mounts directly into the vertical IDC connectors of the USB-IIRO-16 PCB. The USB-IIRO-16, like the PC/104 and PCI versions, is excellent in applications where on-board relays are required and inputs must be isolated such as in test equipment, instrumentation, and process control. The USB-IIRO-16 is a USB 2.0 device, offering the highest speed available with the USB bus. It is fully compatible with both USB 1.1 and USB 2.0 ports. The OEM version provides just the board without the enclosure and internal screw termination board and is ideal for a variety of embedded OEM applications.
USB-IIRO-16 Board
USB-STB-84 Installed
Terminals Wired
Ready to Go!
OEM USB/104 FORM FACTOR
What makes the OEM option unique is that its PCB size and mounting holes match the PC/104 form factor (without the bus connections). This allows our rugged digital board to be added to any PCI-104 or PC/104 stack by connecting it to a simple USB port usually included on-board with embedded CPU form factors such as EBX, EPIC, and PC/104 — especially important since many newer CPU chipsets do not support ISA and have plenty of USB ports. Future stacks will be using the extremely fast PCI Express bus which is essentially overkill for simple digital monitoring and control. The USB-IIRO-16 OEM board can also be added into many pre-existing standard PC/104 based systems and enclosures.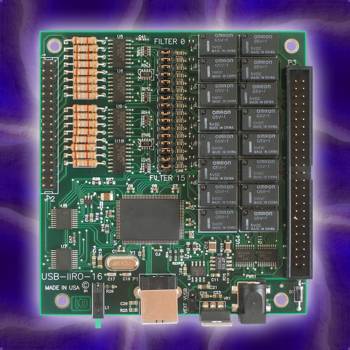 High Retention USB Connector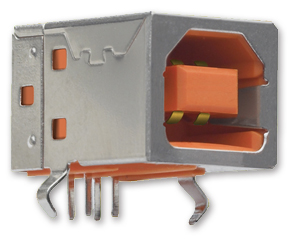 The ever-growing presence of USB in the industrial/military marketplace has driven the need for USB connections to be reliable, dependable, and unfailing. Gone are the days of lose USB connections. A type B USB connector is used on all ACCES USB/104 products which features a high retention design that complies with the class 1, Div II minimum withdrawal requirement of over 3 pounds of force (15 Newtons). This connector has an orange color-coded insulator to quickly differentiate it from standard USB connectors. Using these USB connectors increases reliability in your system and ensures a tight connection. For embedded OEM type applications, an additional miniature USB input header is provided in parallel with the type B connector.
Applications
The industrial I/O market commonly uses electromechanical Form C relays due to their robustness and ability to withstand unexpected surge currents allowing for increased flexibility in switching capability. These relays are also used where small reed relays are inadequate due to their susceptibility to contact damage. The USB-IIRO-16 with its tiny enclosure and cable-less screw termination board provides portable connections to laptops for this kind of monitoring and control for the mobile test market. The full USB-IIRO-16 unit can be used in the following markets.
Home
Portable
Laptop
Education
Laboratory
Industrial Automation
Embedded OEM
ACCESSORIES
The USB-IIRO-16 is available with optional cable assemblies, screw termination boards, an external AC/DC power supply, and DIN rail mounting provisions.
SOFTWARE
The USB-IIRO-16 is plug-and-play which allows quick connect or disconnect whenever you need additional I/O on your USB port. The module utilizes a high-speed custom function driver optimized for a maximum data throughput that is 50-100 times faster than the USB human interface device (HID) driver used by many competing products. This approach maximizes the full functionality of the hardware along with capitalizing the advantage of high-speed USB 2.0.
The USB-IIRO-16 is supported for use in most USB supported operating systems and includes a free Linux and Windows 98se/Me/2000/XP/2003 compatible software package. This package contains sample programs and source code in Visual Basic, Delphi, C Builder, and Visual C for Windows. Also incorporated is a graphical setup program in Windows. Third party support includes a Windows standard DLL interface usable from the most popular application programs. Embedded OS support include Windows Xpe.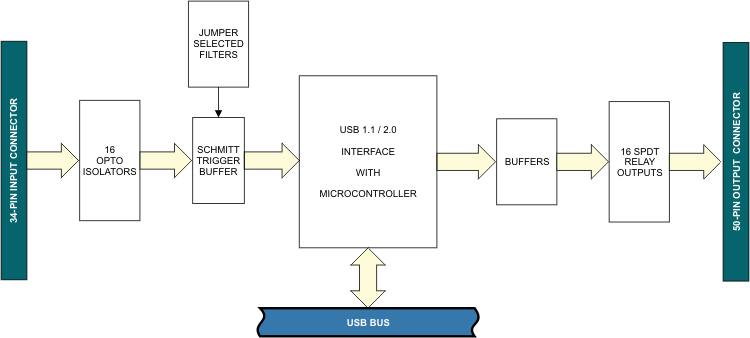 Isolated Inputs

Number: Sixteen
Type: Non-polarized, optically isolated from each other and from the computer (CMOS compatible)
Voltage: 3 to 31 DC or AC RMS (40Hz to 10kHz)
Isolation: 500V* (see manual) channel-to-ground and channel-to-channel
Resistence: 1.8K ohms in series with opto-coupler
Filter Response: Rise Time = 4.7 mS / Fall Time = 4.7 mS
Non-Filter Response: Rise Time = 10 uS / Fall Time = 30 uS

Relay Outputs

Number: Sixteen SPDT form C
Contact Type: Single crossbar; Ag with Au clad
AC Load: 0.5 A at 125 VAC (62.5 VA max.)
DC Load: 1A at 24 VDC (30 W max.)
Switching Voltage: 125 VAC, 60 VDC max.
Switching Current: 1A max.
Contact Resistance: 100 mOHM max
Contact Life: mech'l: 5 million operations min.
Operating Time: 5 msec max.
Release Time: 5 msec max.

Environmental

Operating Temperature Range: 0° to 70°C
Storage Temperature Range: -40° to 85°C
Humidity: Maximum 90% RH, without condensation
Board Dimension: 3.550 x 3.775 inches
Box Dimension: 4.00 x 4.00 x 1.4 inches

Power

5V@ 30mA typical (all relays off, add 30mA per relay)
5V@ 510mA typical (all relays ON)
5VDC provided via USB cable up to 500mA**

**optional external power supply can be ordered if relay use of the USB-IIRO-16 is expected to be greater than what can be supplied by the USB cable.

Regulatory Compliance

This product is designed to be in full compliance with CE requirements.