February 2019
PicoLog 6.1.8 released
The latest stable release of Picolog provides these new features:
Support for the TC-08 terminal board

Support for PicoScope 4224, 4424, 4224 IEPE and 4262 oscilloscopes

"Select all" boxes in Configure Data Table dialog
More about this release >>>>


At the same time we've released a new set of data sheets for all PicoLog data loggers. Now it's easier to find the technical data you need.
---
September 2017



PicoScope 6.13.1 Beta with DeepMeasure™ released!



DeepMeasure is a major new feature for analyzing large waveform captures:

Calculates 12 parameters for each cycle in a waveform

Up to a million cycles per waveform

Rise and fall times, pulse widths, peak-to-peak voltages and more

Auto zoom on selected data

Export data as text or spreadsheet


Available for all PicoScope oscilloscopes from the 3000 Series to the 6000 Series.

More info >
---
August 2017

Pico Automotive: Site Block Kit

The Pico PQ071 Sight block kit contains the sight block, a stop valve for testing a negative pressure fuel pump under load, and 3 sets of hose barbs for connecting to different size fuel hoses.

READ MORE AND ORDER YOUR KIT HERE....

---
August 2017

NEW FROM B B SMARTWORX: USH304 FOUR PORT ISOLATED USB 3.0 SUPERSPEED HUB

we're excited to announce the newest addition to the B B SmartWorx USB product lines: the USH304. It's our first isolated USB 3.0 SuperSpeed Hub offering both isolation and super high speeds. USH304 is an ultra-rugged 4-port isolated USB that offers 2,500 VDC voltage isolation for upstream ports and 4 x downstream USB 3.0 SuperSpeed ports.

READ MORE...

---
July 2017

New: MSR ShockViewer: High-performance analysis software for transportation monitoring

The new software by MSR Electronics GmbH, which specialises in analysing shock events, allows you to clearly present extensive measured data, as well as quickly analyse and conclusively document critical events.

READ MORE...
---
July 18, 2017

New Line of PCI Express Mini Cards for Easy and Flexible Digital I/O Expansion

ACCES I/O Products, Inc., is pleased to announce the release of a new family of mini PCI Express (mPCIe) digital I/O cards—the mPCIe-DIO Family with Digital Integration Features. These small, low-priced, PCI Express Mini cards feature a large selection of digital I/O functions for compact control and monitoring applications. Choose up to 24 channels offering various voltage, isolation, speed, and counter/timer options. Easily integrate additional I/O functions in systems without board modifications or customization. This highly flexible and efficient design provides system integrators numerous off-the-shelf I/O configurations for new and existing embedded systems.

READ MORE...
---
June 2017

Kvaser: New Software Release: Linux & Android Support

The Kvaser Canlib Android Library is now available for a select range of Kvaser devices, including the Kvaser USBcan Pro 5xHS, Kvaser Leaf Pro HS v2 and Kvaser Memorator 2xHS v2 and Pro variant. A virtual driver has also been added, allowing users to begin development before acquiring the Kvaser hardware.



Note: Our Android development responds to an increasing number of inquiries requesting CANlib support on the Android platform from TAs and developers who are building their own applications from the ground up. Kvaser continues to point end users to TK Engineering and Zuragon, who offer a complete set of Android tools. TK Engineering's Kvaser interface driver for Android™ device and Zuragon Technolo's ViCANdroid software.

Kvaser's library support for Linux has been considerably extended and now includes the Converter library (kvlclib) and the Memorator library (kvmlib). This means that our Python wrappers now support these libraries on Linux as well. With many more beginners coding in Python, this is a continuing area of development.

Other changes and additions include:

CAN FD FPGA: The FPGA module found in our PCIE boards has undergone a minor firmware update. Changes include a corner case where timing has been corrected when an error frame should be sent during a switch of data rates. Based on collaboration between Microchip and Kvaser (read more), all the changes respond to fine technical detail within the latest release of the CAN FD specification.

Python Canlib: There are extended options for Linux, including support for new libraries (kvadblib, kvmlib, kvamemolibxml, kvlclib) and some new wrapped functions: KvFileGetCount, kvFileGetName, kvFileCopyXxxx, kvDeviceSetMode and kvDeviceGetMode. Please note that if you have problems loading the Canlib dll in Python, it is recommended you update to the latest version of the Python Canlib.

Firmware for Kvaser Eagle & Blackbird v2: Additional functionality to report the hardware status to Kvaser Device Guide and the XML-parser in t program now handles comments and prolog, so users can now parse their well-commented xml files using t Programs on the Kvaser device.

Kvaser Memorator Config Tool: The process of importing old KMC files has been updated, so users can now import a KMC file created for an older Kvaser Eagle, Kvaser Memorator or Kvaser Memorator Professional device into any of the available target devices. (Please note: that a KMC file which includes Pro-features will not correctly convert to a Non-Pro device.)

Windows Driver Signing: The Kvaser Windows Drivers are now signed by Microsoft and will be accepted on a fresh machine with UEFI boot and Driver Signature Enforcement enabled.Download Full Release Notes.



---
December 2016

Paragon Robotics expands product line with new Wireless Intelligent Thermostats for businesses, retail offices, warehouses and storage facilities.

Our new wireless programmable thermostats enable unprecedented energy efficiency for commercial buildings, warehouses and residential homes. Our thermostat's flexible and powerful design combines our groundbreaking wireless sensor monitoring/ logging capabilities with thermostatic controls for automated energy efficiency and comfort solutions of any sized business or building.



Our intelligent thermostat includes many commercial features engineered for property owners, office complexes, warehouses and storage facilities.

Customized office schedule for optimal HVAC and occupancy comfort during office hours

Programmable schedules for shifts, weekdays, weekends and holidays

Special thermostat lock mode to lock and/or limit temperature adjustments on site at the thermostat

Expandable with additional wireless remote sensors for monitoring energy usage, system processes and equipment

Sensor measurement data logging for history and auditing records

Alarm notifications via email and text message of critical conditions


By utilizing our easy-to-use SmartThermostat software, customers can quickly replace existing thermostats and start saving energy. Our Model TS1 Wireless Intelligent Thermostats starts at $179 MSRP and provides fast pay back with energy efficiency.

In addition to your thermostat system, select from a broad range of wireless sensors and measurements for a complete monitoring system. Our wireless sensor devices start at $79 MSRP and include over 20 different measurements. Monitor temperature and humidity in mulitple rooms or zones or add light, motion, occupancy, pressure, leak detection, air quality as well as devices which accept external sensors such as Thermocouples, RTDs, and Thermistors for monitoring refrigeration/ freezer systems as well as gas/liquid flowmeters and sub power meters.

Wireless programmable thermostats with remote sensors features:

Wireless programmable energy efficiency and schedule settings

Expandable monitoring system with remote sensors for a broad array of measurements

Additional wireless controls available for lighting, process and system management

Flexible target temperature sensor, multiple room temperature averaging/ blending

Temperature with humidity compensation calculations - Actual, "Feels Like" temperature for comfort settings.

Remote control thermostats and remote sensors with Androids, iPhones and Tablets from anywhere

Data Logging capability of thermostat and remote sensors measurements

SmartThermostat and DataRecorder software included

Customized dashboards, controls and alarm notifications

MORE...
---
October 2016

Kvaser Leaf Light HS v2 J1939-13 Type II Connector is Now Available


Alerting all those involved in industrial and heavy-duty applications. Kvaser has now released a Leaf Light HS v2 J1939-13 Type II (EAN 00915-8) with the characteristic green-coloured diagnostic socket.

The 9-pin J1939-13 (Type II) compliant CAN connector is used for off-board connection to a vehicle's SAE J1939 communication network and supports both 250 Kbps and 500 Kbps.

The SAE approved the specification for this off-board diagnostic connector in 2011. However, as the Type 1 socket is being phased out, we are seeing more and more customers "going green". Read more...

New Software Release for Kvaser




Kvaser has just released an important software update, adding lots of new features to CANlib v5.17 for Windows and Linux

.

EOL Notice from Kvaser


The Kvaser Blackbird SemiPro HS/HS (EAN: 73-30130-00453-5) is moved to End of Life (EOL) status, effective October 6, 2016.

Recommended migration product is the Kvaser Blackbird v2 (73-30130-00671-3).
---
July 2016

Kvaser releases marine version of its popular Leaf Light CAN interface

Kvaser is pleased to announce a marine version of its highly popular Leaf Light HS v2 interface. With a USB 2.0 connector at one end and a 5-pin National Marine Electronics Association (NMEA) approved CAN connector at the other, the Kvaser Leaf Light HS v2 M12 (00881-6) provides a simple way to connect a PC to the on-board computer of a marine electronics system.

Supporting high speed USB, all Kvaser Leaf Light v2 application-specific interfaces can send up to 8000 messages per second, each time-stamped with 100 microsecond accuracy. Galvanic isolation, previously a more expensive option on Kvaser's original Leaf Light, comes as standard on this series, which includes the Kvaser Leaf Light HS v2 (00685-0) and Kvaser Leaf Light HS v2 J1939-13 (00787-1).

VISIT MARINE VERSION PRODUCT PAGE >
---
B B SMARTWORX is proud to announce our new eWorx 'Smart' Ethernet family of products!

B B SmartWorx, a worldwide leader in Intelligent Industrial Network Connectivity, announced the launch of its new, energy efficient, eWorx family of Smart Switches designed for Industrial Ethernet applications. The first product line releasing today under the eWorx label are the SE300 series, a new class of monitored switches.

The convergence of OT and IT in manufacturing is a well-known challenge. Building on B B's expertise with rugged products designed to deliver intelligence at the edge of the network, the new eWorx SE300 monitored series is focused on applications where network downtime is hard to predict and manage, and the cost of a fully managed switch is out of reach.

The SE300 switches can be used as a traditional unmanaged switch right out of the box, but their true value comes from their ability to offer real-time networking status through SNMP or Modbus. The downloadable iView² software provides network diagnostics, security and segmentation and displays device status/IP address, port status/speed, and Tx/Rx error packet info. For applications requiring integration into SCADA/HMI systems, the customer can create Modbus Tags in their current software.

The eWorx SE300 series also offers Smart Green Technology to save energy and reduce heat, which in turn extends product life without sacrificing performance or functionality. The entire switch family supports the eco-friendly IEEE 802.3az Energy-Efficient Ethernet (EEE) standard. eWorx switches detect when a connected computer is shut down or when there is no Ethernet traffic, at which time the switch will automatically power down the idle port, saving a substantial amount of power.

In announcing the new eWorx product family, Jerry O'Gorman, President of B B SmartWorx had this to say, "We continue to hear from customers who are exploring what the Industrial Internet of Things can mean for their business. From a practical perspective, it starts with Intelligent Networking Connectivity. We've found it's not a single product, but a perspective that requires a shift in thinking about how to get the most out of your network infrastructure investment. We are excited about our new eWorx Smart Switches and feel they will be a very cost-effective solution to deliver more intelligence at the network edge."

Product Models & Certifications:

– Rugged industrial Design
– Wide temp, -40 to 75C
– Radiated/Conducted noise protection, EMC Level 3
– UL508/C1D2/ATEX/IECEx
– 5 – 18 port configurations
– Gigabit, Fiber and PoE models available
---
May 2016

Oscium Releases Cross-Platform, Dual-Band Spectrum Analyzer For Wireless Professionals & Global Cable Industry


Oklahoma City, OK – May 10, 2016—Today, Oscium is announcing WiPry 5x, a dual-band spectrum analyzer that visualizes 2.4 & 5 GHz on both iOS and Android. By adding coverage to the Android market and supporting 5 GHz, Oscium has expanded their customer base and made some significant improvements. These strategic improvements give Oscium the ability to provide what customers need. Bryan Lee, President of Oscium, said, "We have listened to the professionals in the field and are excited about this release". Here are some highlights of the new product:

Universal platform (iOS and Android supported)
2.4 & 5 GHz dual band spectrum analyzer (RSSI & SSID's)
Discovers SSID's of nearby access points
Perfectly portable and easy to use

Oscium's WiPry 5x accessory connects to the host device as pictured here:



Then, download the software:



The host device is now transformed into a perfectly portable troubleshooting tool for all things wireless.

Availability

WiPry 5x hardware can be pre-ordered today for $499.97. Orders ship by June 30, 2016. Please call us to pre-order today.

WiPry software is free both in the Apple App Store and on Google Play. Although initial support will only include iOS and Android, the hardware is capable of supporting other platforms such as Windows, Mac and Linux. Compatible devices as of this press release are listed by operating system:

iOS version 7.0 or higher

iPhone 6S Plus, iPhone 6S, iPhone 6 Plus, iPhone 6
iPhone 5C, iPhone 5S, iPhone 5
iPad Pro
iPad mini 4, iPad mini 3, iPad mini 2, iPad mini
iPad Air 2, iPad Air, iPad 4
iPod touch [5th generation]

Android version 4.0.3 and higher

All Android devices with USB On-The-Go (USB OTG or just OTG) are compatible.

About Oscium

Oscium delivers innovative test equipment accessories that connect to a smartphone or tablet transforming the host device into a portable troubleshooting tool for field technicians. Hardware can be purchased from Oscium and free software apps are downloaded on either Google Play or in the Apple App Store. Oscium has been delighting customers since 2010 and currently offers the following products for purchase: LogiScope (logic analyzer), iMSO-204L and iMSO-104 (mixed signal oscilloscopes), WiPry-Pro Combo (combination spectrum analyzer & dynamic power meter), WiPry-Pro (2.4 GHz spectrum analyzer) and WiPry 5x [Dual Band Spectrum Analyzer (2.4 & 5 GHz) with Cross Platform Support].

The Future of Test Equipment is Here.

Pre-order yours today!

More...
---

April 2016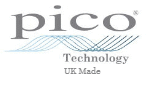 New PicoScope 2200B Series Released




Press Release - English
Press Release - French


---
Feb 2016
Senonics is pleased to provide the upgraded Windows and Mac software to include two new important features.
Current Version: Senonics PC Application 1.0.17
Revised Version: Senonics PC Application 1.0.24
1) Open Excel directly from within the Senonics GUI
When you have uploaded data to the Senonics GUI from Minnow or Bluefin loggers, you can open Microsoft Excel by the click of a button. This makes it much easier to view and work with your logger data.
2) Generate PDF reports from within the Senonics GUI
From the Senonics GUI one can from the click of the button generate a PDF report summarizing the logger data, settings and statistics. This makes it easier for one to keep a record of loggers. You can add your own user comments to each report.
Downloads:
The latest version contains the new features
Direct link (Windows): https://senonics.com/bin/SenonicsPCApplication_Installer.zip
Direct link (Mac): https://senonics.com/mac-installer.html

Test: The new version has been tested on Minnow 1.0TH (Temperature and Humidity), Minnow 1.0T (Temperature only) and Bluefin 1.0TH (Temperature and Humidity) loggers.
---
May 2015

Acces I/O Releases a new 3.5" Drive Bay Industrial USB HUB

Click for larger image
ACCES I/O Products, Inc., is pleased to announce the availability of a rugged, industrial-strength 4-port USB hub that mounts in a 3.5 inch drive bay­model USB-3.5-HUB. This small industrial/military grade hub features extended temperature operation (-40°C to 85°C), high retention USB connectors, and an industrial steel drive bay mounting bracket for shock and vibration mitigation. The 3.5 front panel drive bay mounting provision allows for easy installation in rack-mount industrial and military grade style chassis, as well as in home or office PCs.
More....
---
May 2015
MSR385WD: Universal Data Logger with wireless sensors for operating temperatures up to 125 °C.
[NEW PRODUCT RELEASE !] [NOT AVAILABLE IN NORTH AMERICA
(Special version for North america expected in December 2015)
Permanently record temperature, humidity and pressure values using miniature transmitter modules over long periods of time, at operating temperatures from -20 °C to 125 °C, even in inaccessible locations: The MSR385WD wireless data logger, which operates in the 868 MHz ISM band, offers these options.
Due to the high levels of thermal resistance of its transmitter modules (MSR385SM), the new wireless data logger facilitates applications even at high operating temperatures of up to 125 °C. The measured values are transmitted by means of transmitter modules equipped with temperature, humidity and pressure sensors, in the unlicensed frequency band at 868 MHz, across distances of up to 500 m. The optimised power management ensures that – depending on the frequency of measurements and radio transmissions – the power supply to the miniature transmitter modules is warranted for up to five years.
The measured data of the transmitter modules recorded by the data logger can be read out via a USB interface and processed further using the MSR PC software for data analysis purposes. The MSR385WD has a colour OLED display, is capable of storing over one million measured values and can be equipped with up to ten transmitter modules.
[NOT AVAILABLE IN NORTH AMERICA TILL DECEMBER 2015]
---
April 2015
MSR have decided to switch all blue housings to the new Smart Case housing introduced initially for the MSR145WD Wireless Data Logger.
As you can see in the attached pictures, the Smart Case housing comes with a clip system. The clip is attached to the top side of the housing, connecting the four gold contacts. Data can be read out and the battery can be charged via a USB slot.
Technical data on the new Smart Case housing:
Design housing with 260 mAh battery (Data Logger MSR145):
Size IP 60 new 27 x 16 x 53 mm (old: 20 x 15 x 52 mm)
Size IP 67 new: 27 x 16 x 53 mm (old: 20 x 15 x 61 mm)
Weight IP 60 new: ca. 20 g (old: ca. 16 g)
Weight IP 67 new: ca. 27 g (old: ca. 23 g)
Anodised aluminium case, PC (Data Logger MSR145WD, MSR160 & MSR165):
Size & weight stay the same as for the old version of housing. (NO CHANGE HERE)
Please note that the process of switching the housings will take a while; depending on the model, we will either supply the new Smart Case housing or the existing blue housing.
For any question, help and further information our sales engineers will be pleased to answer any questions 1-877-902-2979


---
April 2015

ITWatchdogs announced a sale on the following models effective immediately.

Model Old List Price New Sales Price
~~~~~~~~~~~~~~~~~~~ ~~~~~~~~~~~~~~ ~~~~~~~~~~~~~~~~
Watchdog 1400 $599.00 $499.00
Watchdog 1400-POE $629.00 $529.00
Watchdog 1000 $329.00 $299.00
All ITWatchdogs by Geist Pricing can be obtained at this link for USD Pricing
Canadian Pricing at this link......


---
March 2015


Acces I/O Release a new series of

mPCIe cards

PCI Express Mini Card...a new product line from ACCES I/O Products. This small form factor measures just 30mm x 51mm and allows for quick and easy I/O expansion in most newer embedded systems. The new mPCIe-ICM Series feature 4 or 2 ports of Tru-Iso™ isolated RS232 serial communications. 1.5kV isolation is provided port-to-computer and 500V isolation port-to-port on ALL signals at the I/O connectors along with ±15kV ESD protection on all signal pins. Also included...industrial operating temperature (-40°C to 85°C) and RoHS certification.

The mPCIe-COM-4SM family of cards feature high performance 16C950-class UARTs. Available in 4-port and 2-port versions, each port is capable of communication speeds up to 921.6kbps in RS-232 (differential modes support speeds as high as 3Mbps) and has 128-byte deep transmit and receive FIFOs. More.......



---
Oct 2014

MSR Goes to the ISS Again......
For the fourth consecutive time, the miniature data logging devices of the Swiss electronics company MSR Electronics GmbH are accompanying the flights of the unmanned spacecraft 'Cygnus' to the International Space Station ISS to take transport measurements.

"We are getting truly spectacular data from these tiny data loggers", says Michael Bain, ISS Cargo Integration and Operations Services Manager of the Orbital Sciences Corporation. NASA, the National Aeronautics and Space Administration of the United States of America, contracts with Orbital Sciences Corporation for commercial cargo delivery to the International Space Station. More.....
---
Oct 2014
Pico Release their New 4 Channel
High Speed Sampling Oscilloscope
Press Release

With the new PicoScope® 9341 20 GHz Sampling Oscilloscope, engineers can analyze two differential or four single-ended high-speed signals. The instrument is ideal for measuring skew and crosstalk between differential pairs on serial buses such as HDMI, SATA and PCIe, and for testing signal integrity at differential and single-ended transceiver ports. Data rates up to 40 Gb/s can be viewed, with 5th-harmonic characterization possible up to 8 Gb/s.

"The PicoScope 9341 is the only compact four-channel sampling oscilloscope on the market," explained Alan Tong, Managing Director of market leaders Pico Technology. "Its specifications and features are a match for traditional full-sized benchtop instruments but at a fraction of the cost." The oscilloscope can be used for pre-compliance tests, fault-finding and margin testing on serial data signals such as 10 Gb Ethernet, SONET/SDH STM64 and FEC1071, 10x Fibre Channel, InfiniBand and PCIe. The scope is controlled through its LAN or USB interface using the PicoSample™ 3 software included. PicoSample 3 provides a large-screen user interface and advanced display features such as color and density profiling, multiple trace windows, histograms, multiple measurements and statistics. Regular software updates are provided free of charge. More.....



---
Oct 2014

Pico Released their new range of
Dual and Quad Channel Automotive Scopes

The new PicoScopes offer:

sampling rates up to 400 Mega Samples/s

250 Mega Sample memory

±200V input voltage range

USB 3 for even faster download speeds, and

Some other exciting new features:

independent floating inputs rather than the common ground system on the previous 4423

ConnectDetect™ which indicates a good connection when probing connectors.
---
Sept 2014

Pico Releases their new range of Mixed Signal Oscilloscope 3400 Series - 2 and 4 Channel Models
Data and Specifications here ->

PicoScope 3000 Series Mixed Signal Oscilloscope

200 MHz analog bandwidth

1 GS/s real-time sampling

512 MS buffer memory

100,000 waveforms per second

16 channel logic analyzer

Arbitrary Waveform Generator

USB 3.0 connected and powered

Serial decoding and mask testing as standard

Windows, Linux and Mac software
---
July 2014
New accessories: WPS500X Universal hose and adapters
On the 1st August 2014 we will update the way in which you can connect your WPS500X to your vehicle. Our accessories list will include a simple universal hose, with a selection of adaptors:

TA212: Standard hose

TA213: M10 short reach adaptor

TA214: M10 deep reach adaptor

TA216: M12 deep reach adaptor

TA217: M14 short reach adaptor

TA218: M14 deep reach adaptor

TA219: M16 Ford Triton adaptor

TA220: M18 adaptor

This change also affects the contents of our WPS500X kit. We will be removing the M14, M10, and M12 compression hoses, and replacing them with the standard WPS500X compression hose, M10 short adaptor, the M12 deep reach adaptor, and both the short and deep reach M14 adaptors.

Please keep an eye on our Pressure Sensors, Transducers and accessories page for more information.
---
June 2014

Pico release their NEW Waveform Library (Only Applies to users of Pico Automotive Scope and Software)
If there was ever a feature of PicoScope Automotive 6 that was worth shouting about, it has now arrived. The Automotive Waveform Library has now been released. I cannot remember how many times it would have been useful to have a comparison waveform for a circuit under test. Often this would involve sifting through your own library, or ringing round colleagues in the hope you might get lucky. Wait no more....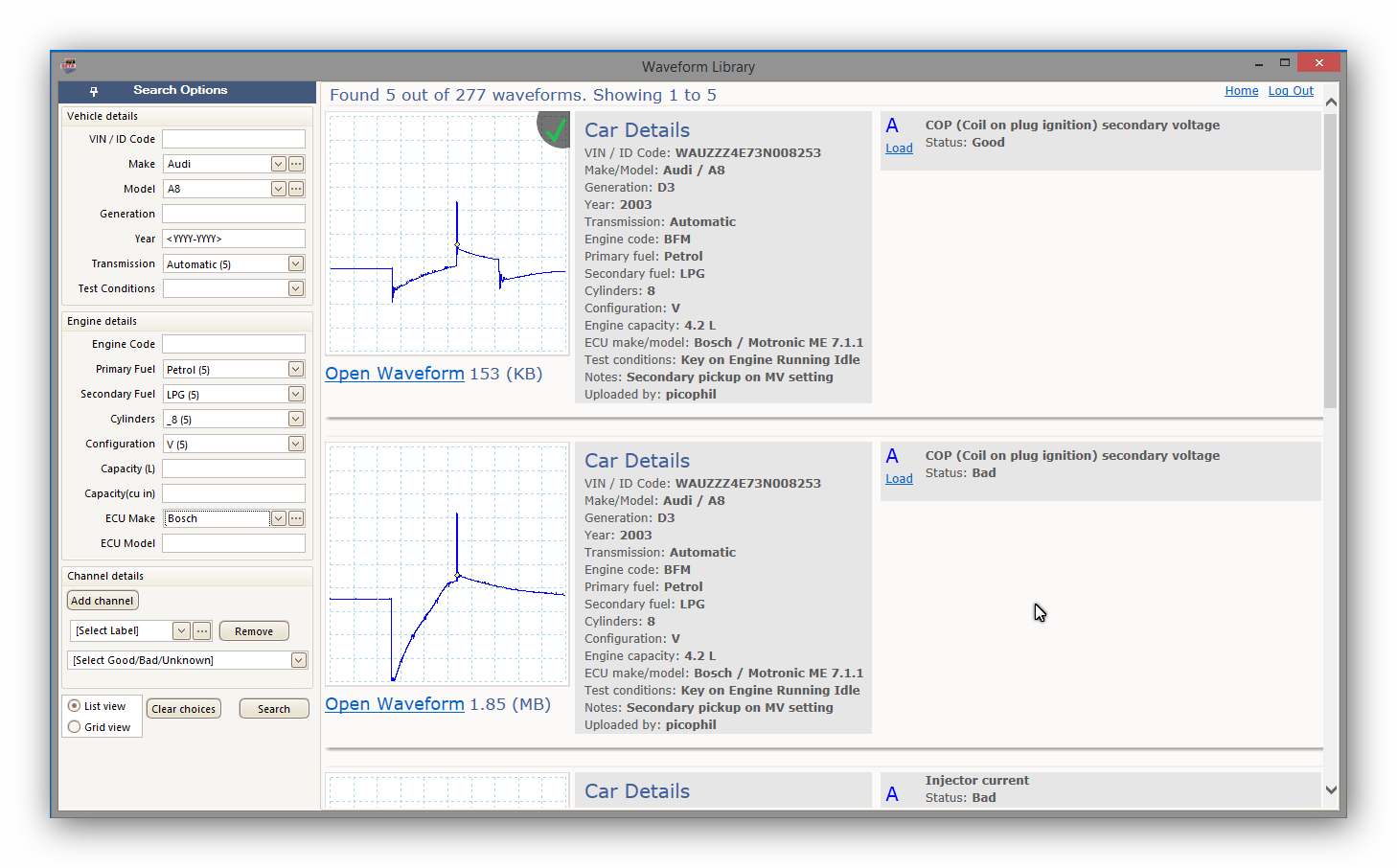 ---
April 2014

Introducing - the ITWatchDogs - SpiceWorks Plugin



Monitor your critical environments from the SpiceWorks 7.0 app. Check it out!

What's SpiceWorks?
SpiceWorks is a free and simple IT management interface for common applications like network management, asset management, and help desk. You can also ask questions, share solutions, swap horror stories and review products in the tech-savvy SpiceWorks community.
---
April 2014

WPS600 High Pressure Hydraulic Pressure Transducer Released
With high accuracy and a wide measuring range, the WPS600 Hydraulic Pressure Transducer connects to your PicoScope for convenient analysis and diagnosis of pressurised systems.
Accurately measure up to 600 bar (8700 psi)

Ultra-fast 100 microsecond response time (0% to 90% of full scale)

Internal rechargeable LiPo battery

Industry Standard M16 x 2 Test point connector

Auto zeroing

High noise immunity

Temperature compensated

Not for continuous operation
WPS600 Pressure Transducer Kit - Special Order (TA092) - ***NEW***

---
March 2014

A PicoScope with eight
high-resolution channels - 4824

The new 8-channel PC oscilloscope from Pico Technology offers the perfect solution for advanced multi-channel applications. Housed in a compact and rugged enclosure, the PicoScope 4824 features 12-bit resolution, SuperSpeed USB 3.0 interface, and an integrated 14-bit arbitrary waveform generator (AWG).

Managing Director Alan Tong explains "The new 8-channel PicoScope has the same small footprint as Pico's existing 2 and 4-channel models, and can replace the cumbersome full-sized scope on your workbench". Like all PicoScopes, the 4824 is small, light, and highly portable; despite its high specification it is entirely powered via USB and does not require a bulky separate adaptor.

With 8 high-precision, low-noise inputs, a bandwidth of 20 MHz and sensitivity from 2 mV/div, this scope is well suited to a broad range of applications such as power supply start sequencing, decode and time-aligned display of related I/O, 7‑channel audio, 3‑phase voltage and current measurements, and multi-phase motor drives. The maximum sampling rate of 80 MS/s, deep buffer memory of 256 MS and data streaming enable the scope to capture detailed timing data over prolonged periods.

More........
---
January 2014





Vertigraph release their new drawing compare program to facilitate on screen takeoffs.
Details at this link....
---
January 2014

MSR145 wireless data logger with BLE, OLED display
and MSR SmartCloud


(NOW SHIPPING!)

Wireless monitoring of measured data and fast readings of measured values – the new features of the Bluetooth Low Energy Option (allows interface to smartphone) and the OLED graphic display of the MSR145 mini data logger.

Also new: the web-based "MSR SmartCloud" service for mobile data monitoring.

Now Shipping! Pricing available here....

More.......
---
November 2013

Pico Rechnology annouce new series of companct, portable USB Oscilloscopes (2200A Series)
Details at this press release ->
---
May 2013

New Pico technology delivers Flexible Resolution Oscilloscopes

For the first time in an oscilloscope, Pico Technology has used reconfigurable ADC technology to offer a choice of resolutions from 8 to 16 bits in a single product.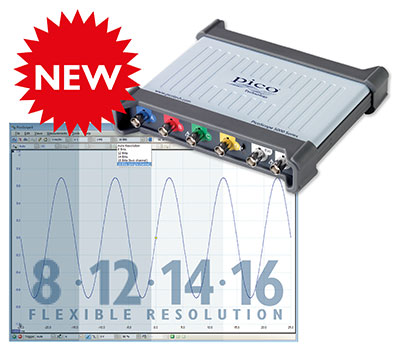 Most digital oscilloscopes gain their high sampling rates by interleaving multiple 8-bit ADCs. Despite careful design, the interleaving process introduces errors that always make the dynamic performance worse than the performance of the individual ADC cores.

The new PicoScope 5000 Series scopes have a significantly different architecture in which multiple high-resolution ADCs can be applied to the input channels in different series and parallel combinations to boost either the sampling rate or the resolution.

In series mode, the ADCs are interleaved to provide 1 GS/s at 8 bits. Interleaving reduces the performance of the ADCs, but the result (60 dB SFDR) is still much better than oscilloscopes that interleave 8-bit ADCs. This mode can also provide 500 MS/s at 12 bits resolution.

More........
---
March 2013
PicoScope upgrade adds I2S audio protocol decoding
The PicoScope 6 oscilloscope software can now decode I2S data thanks to the latest software update from Pico Technology. The I2S (Inter-IC Sound) standard is a common serial data format used in audio equipment such as CD players and DACs.
All PicoScope users can download the new beta release free of charge. As well as I2S, the software can decode I2C, RS-
232/UART, SPI, CAN, LIN and FlexRay serial data.
As Managing Director Alan Tong explained, PicoScope adapts to the capabilities of your scope, using fast on-board memory if you have a deep-memory device, or your PCs RAM if you have a budget scope with less memory. You can decode any protocol
that is compatible with the sampling rate of your scope. If your scope has enough channels, you can decode multiple serial channels at once or even a mixture of different protocols.â€ï¿½
PicoScopes serial decoding is easy to use, with decoded data displayed on the same axes as the waveform so you can compare analog and digital domains. A data window below the waveforms shows decoded packets in detail, with filtering, pattern triggering and search options to help you manage large amounts of data. You can export the data to a text file, and load your own mapping files that translate numeric data to text strings. The waveforms and data window are cross-linked, so that selecting a packet in one view automatically highlights it in the other view.
A four-channel scope such as the PicoScope 4424 is perfectly suited to I2S decoding, while its 12-bit resolution, 1%
accuracy, built-in spectrum analysis and easy portability make it ideal for the audio engineer. Pico Technology also offers
very-high-resolution scopes for precision audio analysis. The company released its first 16-bit scope in 1993, and now the
latest model, the USB-powered PicoScope 4262, offers 0.25% DC accuracy, a typical SFDR of 102 dB and ±0.2 dB of bandwidth flatness, as well as a low-distortion signal generator. For applications with large numbers of serial data signals, the PicoScope mixed-signal oscilloscopes (MSOs) with 2 analog and 16 digital channels allow up to 18 signals to be decoded at once.
As always, PicoScopes advanced features are available free of charge to all owners of PicoScope oscilloscopes. The latest
beta release of PicoScope 6 (R6.7) with I2S decoding is available to download now from https://labs.picotech.com.
---
February 2013
The World's First USB 3.0 Oscilloscopes
250 MHz bandwidth
512 MS buffer size
1 GS/s real–time sampling
10 GS/s repetitive sampling
USB–connected and powered
New to our PicoScope 3000 Series are the PicoScope 3207A and B. Along with class–leading bandwidth, memory and sampling rates these new oscilloscopes are also the first oscilloscopes in the world to feature a USB 3.0 interface.
---
November 2012
New Series of Mixed Signal Oscilloscopes
The new range of mixed-signal oscilloscopes (MSOs) from Pico Technology combines the deep memory and high performance of the PicoScope 3000 Series with a powerful 16 channel logic analyzer. With a built-in function generator and arbitrary waveform generator also included, these oscilloscopes offer a complete test bench in one compact, USB-powered device.

The new MSOs have 2 analog channels with bandwidths from 60 MHz to 200 MHz, a maximum single-channel sampling rate of 500 MS/s, and 100 MHz digital inputs.

Buffer memory sizes range from 8 MS to 128 MS. The deep memory on these MSOs works especially well with the serial decoding feature, explained Managing Director Alan Tong. You can capture serial data using any of the 2 analog and 16 digital inputs, giving you up to 18 channels. All of these can be decoded concurrently, even if you have a mixture of serial protocols.

More.......
---
October 2012

Own the best Automotive kit for less - New Pico Starter Kits now available
Now it's even easier to get started with PicoScope, the world's most popular automotive oscilloscope. Pico Technology has just released two new starter kits to give you the perfect introduction to oscilloscope diagnostics.
---
July 2012

Pico Releases the new high Speed 4 Channel 3000 Series of Oscilloscopes

The new PicoScope 3000 Series offers the

highest performance available from any USB-powered oscilloscope on the market today.

The PicoScope 3000 Series has the power and performance for many applications, such as design, research, test, education, service and repair.

Pico USB-powered oscilloscopes are also small, light and portable. They easily slip into a laptop bag making them ideal for the engineer on the move. The new PicoScope 3000 series 4-channel oscilloscopes feature FlexiPowerTM, giving you the option of powering the scope from two USB ports, so you can leave the power supply behind when using the device in the field.



---
June 2011
Pico Releases their new High Speed (500Mhz) 6404 PicoScope
The new four-channel PicoScope 6404 PC Oscilloscope has an analog bandwidth of 500 MHz. This is matched by a real-time sampling rate of 5 GS/s, which guarantees accurate representation of signals up to the full bandwidth. The scope also has an ultra-deep 1‑gigasample buffer memory that allows capture and analysis of complex waveforms, even when sampling at full speed.

Based on Pico Technology's 20 years of experience in PC Oscilloscope design, this instrument packs more performance and features than ever before into a space-saving USB oscilloscope enclosure. As well as the headline specifications, the scope offers a built-in function generator, arbitrary waveform generator, mask limit testing, switchable bandwidth limiting on each channel, and switchable 1-megohm and 50-ohm inputs. This is in addition to the spectrum analysis, advanced triggering and serial decoding that are already standard features of Pico PC Oscilloscopes.
---
March 1, 2011
Vertigraph Releases Version 4.0 of its SiteWorx Cut and Fill Software
Dallas, Texas (February 28, 2011) . . . Vertigraph, Inc., a leader in the development of takeoff and estimating software for the construction industry, releases Version 4.0 of its popular SiteWorx Cut & Fill Takeoff software. With SiteWorx Cut & Fill Version 4.0, users are now able to generate cut reports by strata by entering in boring log data. Version 4 also properly calculates the increase in areas and volumes resulting from area overcut lengths. With Version 4.0's enhanced algorithm, cut and fill volume calculations are more clearly displayed and the results are easily exported to Microsoft Excel and other applications.
More....
---
February 8, 2011
Pico Technology release their new 3000 Series A and B Oscilloscope
The latest dual-channel PC Oscilloscopes in the PicoScope 3000 Series offer bandwidths from 60 MHz to 200 MHz. These compact and economical devices include valuable features such as serial decoding, mask limit testing, segmented memory and advanced triggers as standard. The result is a range of new scopes that are perfect for engineers and technicians needing a complete test bench in a single unit.
"These are the highest-performance USB-powered oscilloscopes available," explained Alan Tong, Managing Director of Pico Technology, "yet they are still extremely portable and will fit easily in a laptop bag."
All the scopes have a built-in function generator, a feature that was previously available only on Pico's highest-bandwidth models. There is also a dedicated external trigger input, and the higher models also feature a built-in arbitrary waveform generator.
More.....
---
12 January 2011

Pico Technology Releases New USB DrDAQ Low-Cost Data Logger

The new USB DrDAQ data logger offers an amaz

ing collection of 15 channels in a compact, low-cost device that's perfect for hobbyists, teachers and technicians. It is supplied with full versions of the PicoScope and PicoLog software so that all of its capabilities are ready to use, straight out of the box.